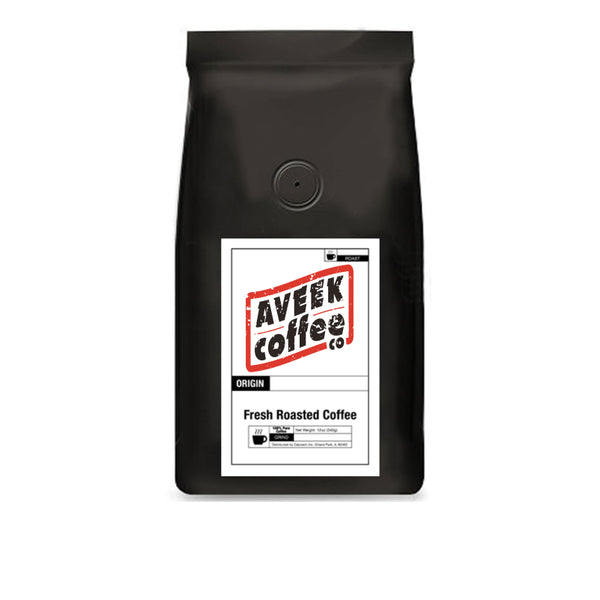 Costa Rica 5lb
---
---
---
Product Facts
Net Weight: 12 oz
DESCRIPTION:

Costa Rica is a hot spot for some of the best coffee in the world. From that lively place we bring you one of Aveek's favorite roasts, our Costa Rica Single Origin. Follow this medium roast on a journey through sweet and earthy aromas, honey and amber sweet raisins, all the way to a pleasant finish of a crisp, juicy apple. Sweet through and through. Enjoy a cup of this joe as the sunrises over a canopy of tropical trees or anywhere else you might be!
Certification/Grading: SHB/EP
Roast: Medium
Tasting Profile: Sweet apple, raisin, honey
Grower: Micro farms in Alajuela
Variety: Caturra & Catuai
Region: Alajuela, Costa Rica
Altitude: 1300-1445 M
Soil Type: Volcanic Loam
Process: Eco-pulped and dried in the sun.
GET 10% OFF EVERY BAG WHEN YOU SUBSCRIBE!
 Discount applied at checkout
shipping

Order Delivery time:

All orders are shipped PRIORITY/FIRST CLASS USPS

 & Delivered 5-7 business days from the day you place the order

FREE SHIPPING ON ALL USA ORDERSORDERS OUTSIDE THE USA ARE SUBJECT TO USPS INTERNATIONAL RATES

We will email you tracking info as soon as the order is shipped.